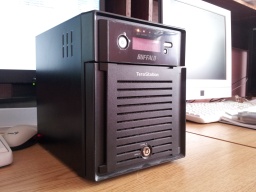 Ali & Garry Newton, Warminster
Data Recovery from a Buffalo Terastation Server with error. This was a Model Number TS-XEL/R 5 Series, TS-XE20TL/R5-EU which stored data on 500GB SATA hard drives in a RAID 5 Array. 3 weeks ago when we heard squeaking noise and red flashing display on the server. The errors showing were listed as:

HDI is faulty error E23.
Degrade mode – operation mode I 12.
Raid array error E13.
Peeping and red flashing display.
No initiate file at HDD3.


We switched it off immediately and restarted next day but same red flashing display appeared with same errors.

First we tried to get it repaired locally but could not find anyone. We found Apex Technology and once we contacted them the response was very quick based on the query with comprehensive information on possibility of repair and associated costs. Once we heard that our data has been successfully retrieved and that the existing server can still be reused within its limits we were very relieved and pleased. We were very happy with Apex's approach, very personable and professional. We are very pleased to have approached the Apex Technology and would happily recommend it to any professional company. Thank you Howard that you managed to retrieve all the data!.