Data Recovery for RAID, Virtual Disks, SCSI, iSCSI, VHD, VMDK, NAS Drives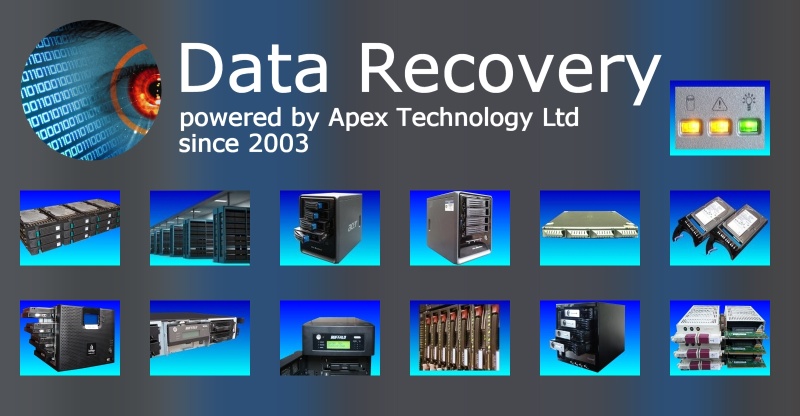 Data Recovery
We recover data from many types of Raid failure, Virtual Disks, Server Hard Drives, NAS drives.
This includes SCSI, iSCSI, VHD, VMDK, HDD, and raid array rebuild problems.
We also supply donor hard drives, repair USB memory sticks and dongles, and repair HDD SATA / IDE connectors.
We have recovered data for ...


BBC
Police
MOD
NHS
BAE Systems
HSBC
British Nuclear
The British Library
Royal Munitions Factory (Radway Green)
Essex County Council

and many others....


Our friendly team are here to help recover your data. Email or give us a call now!






Fast action!
We understand the time critical nature of central server and nas box failures. Countless times we have worked through 24 hours and weekends to return the data quickly, and some times for the next morning so that the organisation can continue to work on their files, documents databases and spreadsheets.
Data Recovery covers anything from modern Raid, Virtual Disks, iSCSI, all the way back to older SCSI Compaq servers.
We also write our own data recovery software, and bespoke recovery from optical disks or old proprietary unknown file systems.
We recover systems with a variety of operating system, e.g. Windows, Macintosh, Novell, Linux and Sun Solaris.

Recover Data from Virtual Disk VM machines and files
Virtual Disk Servers problems we have recovered data from ...
Buffalo Terastation Raid 5, Disk 2 in failed state and storing NTFS disks in VMFS filesystem
Iomega ix4-200d iSCSI VMWare Virtual Disks.
FibreCat SX80-i server ESX VM-ware VMFS Virtual Machines on 12 hard disk Raid 5 Raid Controller failed.
Thecus i5500 iSCSI with 2 disks missing from Raid5 array and partitions formatted in Windows NTFS file system.
Fujitsu Siemens Fibrecat SX80i VMFS Virtual File System disappeared after power outage, Raid 0 with ESX iSCSI VHDK files.
Buffalo Terastation Rack Mounted TS-RI4.0TGL/RR-EU iSCSI RAID 5 2x LUN's with NTFS and VMFS partitions holding VM's.
HP385 Server Raid 0,1 (ie Raid 10) with 4x 147GB SCSI drives. 3 out of 4 drives failed, data in VMFS virtual disks disks.
Synology DiskStation NAS 12 x 2TB HDDs , Citrix Virtual Machine Disks. Disk down from Raid 5 array, LVM vhd files.
Thecus i5500 iSCSI NAS 5x 1TB drives no data access as 2 disk missing from the RAID 5 and iSCSI partitions formatted in Windows NTFS file system.
HP StorageWorks MSA2324fc G2 - 3 drives failed in the Raid 6 ADG array, vdisk offline LEFTOVR (leftover) - vmdk file recovery from VMFS.
Citrix Server, VM-Ware (VMFS) / ESXi and VHD files created using Windows Server 2008 R2 and 2012 R2, Windows 10, Windows 8.1, Windows 8, Windows 7, Hyper-V VMWare server.
Recover Data from Raid 0 1 5 6 10 Servers
Raid disks problems we have recovered data from ...
Lacie INNS04-4200-LAC NAS device that has stopped working. The Lacie chassis had a Raid-5 configuration, 4 drives, 1TB each.
Buffalo Terastation Raid Array E13 E23 error.
Dell PowerEdge SCSI raid array with 2 disks missing from raid 5 array.
Buffalo Terastation Pro. disappeared off the network.
HP Server SCSI hard disks missing 3 out of 4 disks from Raid 5.
Buffalo TeraStation Live just showing JBOD / disk spanning - raid array lost.
Buffalo Linkstation RAID 5 NAS a disk had failed then raid array rebuild failed.
Dell PowerEdge R610 server with Power Vault MD1000 and 15 SAS drives Dell PERC 6/E controller in degraded mode
Acer Easystore disk change notification and raid array will have disappeared.
Dell Poweredge 1850 and Dell PowerVault 220S SCSI disks PERC RAID card configuration no arrays or logical disks present.
Buffalo Terastation PRO raid error during the rebuild, another drive failed.
Buffalo Terastation Live EMERGENCY MODE NO ARRAY INFO.
Terastation TS3400R can see the shares but access is blocked.
Thecus N4100+ NAS, supplied by Evesham RAID 5 device was not detected on the network.
Lacie SS4000e RAID drive lost data after power outage.
Terastation System error E04 can't load kernel.
Iomega Storcenter NAS failed while reconstructing RAID disk.
Intel SS4000E Nas box after power failure requested the disks to be initialized status is now New instead of RAID5 array.
Buffalo Terastation Error meassages Raid Array 1 E14 RAID can't mount, Raid5 Broken, and HD2 broken E30 Replace the disk.
Terastation Emergency Mode Error EM963. After a power outage it was showing "degraded" rebooted to get the "Emergency Mode No RAID Info Found" error.
Intell SS4000e , HDD3 failed, Raid5 degraded - shows share folders but no data after rebuild.
Lacie 2BIG network drive Mirrored Raid drives power failure.
Acer Altos EasyStore after power failure showing shared folders as NOT READY.
Buffalo Terastation with E06 Raid issue.
Netgear SC101 Recovery - oh yes the toaster of the network drive world
Evesham Silverstor NAS lost array after power failure
Readynas by Infrant and Netgear with their infamous X-RAID system.
Intel Server SR1450 RAID CONTROLLER Intel SRCU42X.
SCSI Raid Data Recovery
Apple Mac HFS Server Raid Recovery
G-Raid Recovery
Linux Raid Data Recovery
On-Site Data Recovery
On-Site (mobile) recovery services we have undertaken ...
Buffalo Terastation Lost Raid Array for MOD.
Document Scanner (DIP work-station) conversion to pdf files.
MIRRA 2 DVD RAM disks square Cartridge / case, Data is in NICE proprietary format, unknown file system.
5.2GB MO disks Plasmon P5200E from a NICE telephone recording system - physical errors not allow files to be copied off the disks.
OpenText Integrated Document Management (IDM). Convert to TIFF with doc ifnid and disk set ifnds numbers and move to Unix.
FileNet Data recovery from HP SureStore Optical MO disks which FileNet system could not read the files due to errors
HP WORM optical disks from OpenText which could not be read.
Soft-Co PCDOC Enterprise EDMS system transfer scanned documents written to Magneto optical disks to TIF/PDF.
Data Recovery News and Reviews
Click for Data Recovery News.
Click for Data Recovery Reviews.
Data Recovery
Data Recovery problems that we recover data from are listed below.
Raid Array Rebuild, Raid Rebuild, On-Site Data Recovery, File Conversions, Disk Conversions.
We recover data from many types of Raid failure, Virtual Disks, Server Hard Drives, NAS drives. This includes SCSI, iSCSI, VHD, VMDK, HDD, raid array rebuilds..

For further information on Data Recovery see this info